The One Reason Why Sato's WS4 is the Better Alternative to Zebra's ZD420
In this post we will discuss the one and most important advantage of buying Sato's WS4 over Zebra's ZD420. In a time where printer manufacturers are very similar, it can make it hard to choose which printer will be best for your business. In this article we'll go over the similarities, the reason why the WS4 is better than the ZD420, and why you should buy the WS4.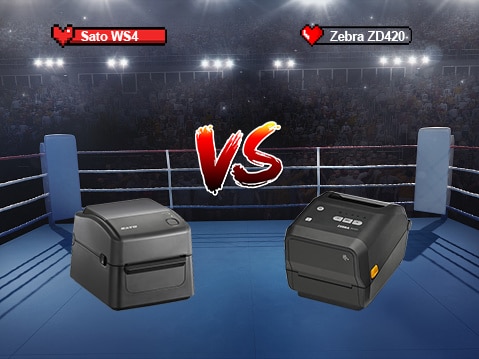 From their exteriors and interiors, both of these printers are similar in many ways. If there wasn't a logo put on these devices, it would be very hard to distinguish which of these belongs to its respective manufacturer. Both of these printers are well equipped to handle print jobs within the industries they are marketed towards.
These printers are capable of printing at 200 DPI and 300 DPI, at 200 DPI they are able to print at 6 inches per second, and at 300 DPI they are able to print at 4 inches per second. Both are able to hold a ribbon up to 300 meters in length. In terms of portability, they are almost identical in weight, the direct thermal models sit close to 3.5 pounds and in thermal transfer they are around 5.5 pounds, with the Sato being just a tad heavier than Zebra.
If physical characteristics weren't enough, they are both capable of supporting both bluetooth and wifi printing connections. These printers pack a punch for their size and most businesses would find either of them useful in their day to day operations, however the Sato has an edge over Zebra and that happens to be price.
As we said, the printers are quite similar in form and features, but what sets them apart the most is the pricing. We can look at the prices from 2 different model specifications with 2 different printing methods, the 200 DPI and the 300 DPI versions.
When we look at the Zebra 200 DPI versions, the direct thermal model is priced at $617.00, while the thermal transfer version of this printer is priced at $720.00. The 300 DPI version of this printer is currently priced at $1031.00 and it is Thermal Transfer. Zebra does not currently make a direct thermal model in 300 DPI.
For Sato, the 200 DPI model in direct thermal is priced at $475.00, and the thermal transfer model is priced at $625.00. Additionally this printer has a direct thermal 300 DPI version at $575.00, while the thermal transfer sits at $725.00. Sato's prices are a great value and the most obvious reason why it's a better alternative to the ZD420.
At the end of the day, both these printers spec in almost identically. The onboard connections, media handling and physical features directly compete with each other. So why not save your business some money and purchase the Sato? Sidco has put the WS4 through rigorous testing and we absolutely recommend it as a favorite option for desktop thermal label printing.